Frequently Asked Questions
Yes. Helmets are provided and SANITIZED before and after each rental. Gloves are available for purchase.
After the rental agreement is signed we provide an in depth walk-thru of all functions for operating the Ryker safely.
You will be charged a flat fee of $150 if you keep the Ryker beyond your rental agreement time period. If you need more time please let us know.
Passenger seat option available upon request for an additional fee. The Passenger must be 14 or older.
Previous riding experience required for driver.
Passengers are allowed for an additional fee.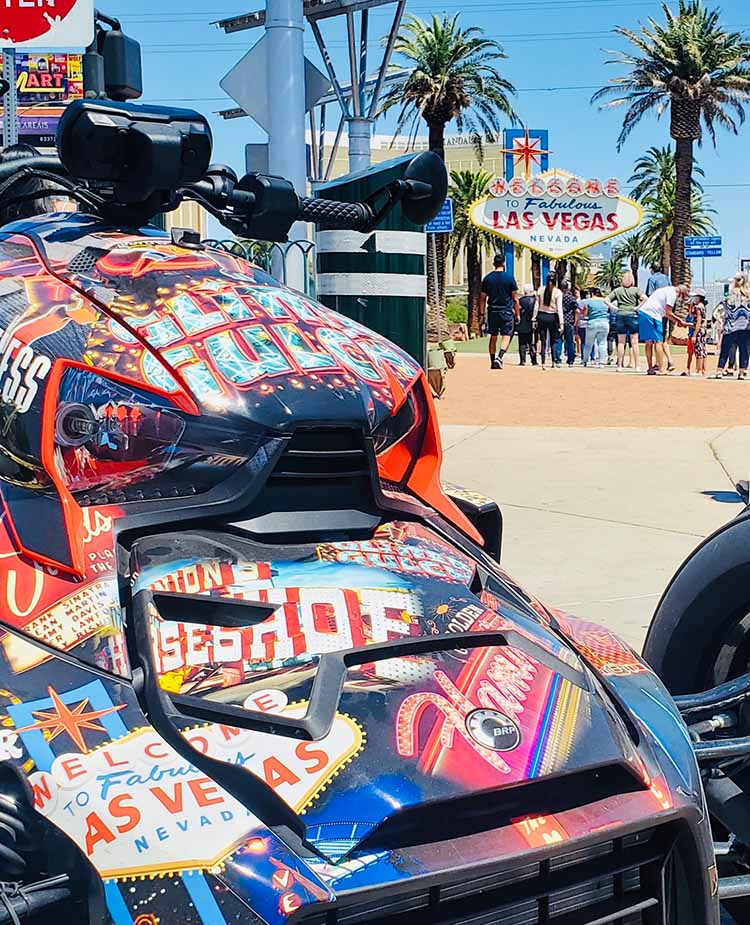 You can go 100 miles in any direction from the center of the Las Vegas Strip. If wanting to travel further please ask.
Of course we do! Inquire when making your reservation
These are fully automatic motorcycles! They are on-road vehicles ONLY so going off-road is prohibited and can result in fees being added and taken from your deposit.
Cash is accepted for the rental fee, but a major credit card is required for the deposit and damage waiver fee.
Yes, there is a 415lbs max weight limit per bike.
Renters must be 25 years of age or older to rent and operate the Ryker.
It's possible as long as another rental hasn't been purchased for the same bike at a time after you were supposed to have returned the unit. Call the office and we would be happy to accommodate you.
(702) 405-8209
All of our Rykers are for sale. Ask our associate on duty for details.
Yes, a late return fee will be charged to any rental extending their agreed upon rental period.
YES, A $250 refundable deposit required per bike rental.
Yes. Only taxes which are Las Vegas Local Tax at 8.375% sales tax, Government surcharge of 10%, and Clark County Rental tax at 2%.
We do NOT guarantee your Ryker selection, time frame, price, availability or any other detail.

*We reserve the right to amend your reservation at any time, with or without notice. But we will always do everything in our power to ensure you have the BEST POSSIBLE experience.
Cancellations will only receive a maximum of a 50% refund of the rental fee regardless of reason prior to 24 hours of rental time. Cancellations anytime within the 24 hour window will receive no refunds. No refunds will be given to renters who seem impaired or intoxicated. *We strictly adhere to this policy.